A thought about building a Clan tree was all time with me, but how to do it, to put on one chart more that 500 names with preserving logic and timeline, assembled in a shape of an oak?
I've made sketches on big sheets of paper putting sheets together with glue. First tree didn't keep good proportions, in one spot branches were too dense in other spot sparse. Next time was better, the lineage preserved from the good knight Popiel to the youngest offspring born in last years.
I've figured out that the tree can be built as a relief stuck to a plywood backboard. I've employed a sculptor and he's carved in wood a trunk , limbs and leaves. During installation of the components it prooved, however, that the weight of the sculpture is too great and in addition proportions between the trunk and branches are lost. Finally I decided to paint the tree on a 3/8 of an inch plywood. It took me two months to do it.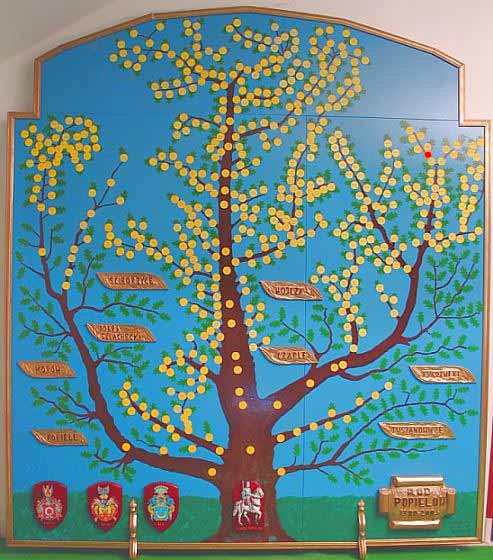 Author marked up with a red circle






Selected fragments of the tree (click to see larger picture)
Czerwonym kółeczkiem oznaczony
autor opracowania

Dimensions of the tree:
Height 113"
Width 91"
Number of names shown 563
Number of leaves 723 including 160 empty leaves as persons probable but not documented.
The branch that I investigated, related to my lineage contains 58 names and that is about 10% of all names.
The tree encompasses 18 to 21 generations starting from 1380 to the present time. My sources include the Internet sites, the Pawel Popiel's book, the book of Popiels elaborated by a genealogy firm, the workout of the Museum in Ostrowiec Swietokrzyski curator and my own studies.
I realize that the tree, although big, is incomplete and some of the Popiels visiting this site will be disappointed not finding their own family lineage, but I've done what I was able having and acquiring those records that I could have. Nevertheless, anybody having last name Popiel can try to build his own branch and attach it to the tree. There are chances but the will is required.
Finally I've taken the tree to Kurozweki and re-assembled it in the museum room of the Martin Popiel's palace. I considered it the best spot for it, where everyday it can be seen by tourists. It may be a quite interesting display since that is a sole genealogical tree of this size ever built.

---
Jan Popiel
&
Slawomir Popiel

This site was created on June 15, 1998 and updated on May 11, 2007
Copyright © 1998. Jan Popiel & Slawomir Popiel.