The following map of Popiele village location and text provided by Mr. Marcel Domin of Sanok. Thanks!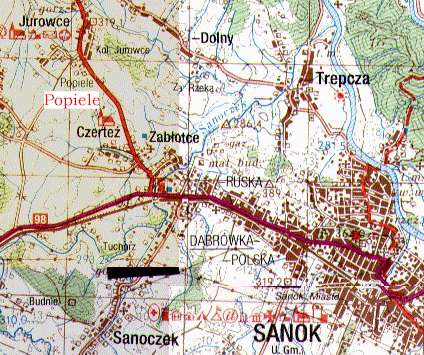 he village Jurowce is located 14 kilometers from Sanok, at the road to Rzeszow (Poland). The village was established in 1361. The village features a very interesting Orthodox church of wooden structure built in 1873 (converted to the Roman Catholic church in 1946) and the brick-made bell tower of 1905 just next to it. There is a complex of buildings (in disrepair) across the road from the church. Among them a nobleman's mansion built in 1st half of 19 century in classic style. Everything in the middle of garden with uncared-of pond in the center.
Popiele is a hamlet belonging to Jurowce. This place intrigued me very much since I obtained some historic materials from Mr. Jan Popiel of New York.
I was there not long time ago. First time in my life coming from the Kostarowce side. A place like many others and same time unusual. A beautiful, lined with linden trees road leads from Czertez to Kostarowce. The trees give nice shadow bringing relief from the sun and causing the ride to be slow and delightful. During such slow ride one can look around. The valley is vast and flat, the road runs among fields. Grown with trees hills are seen.
[...]
MD
Sanok, lipiec'98
Popiele, part of Srogow Gorny, Sanok county, at thr road from Brzozow through Dabrowka Ruska to Sanok (1150 ft. MSL) to the South from village Jurowce. Here another road departs towards Nowosielce Gniewosz which is Carpathian Railroad station (Zwardon-Husiatyn), 129 km distant from Zwardon and 10 km from Sanok. It borders at the West with Kostarowce, at the West with Srogow Dolny, at the South-East with czertez. The hamlet counts 18 families, 105 inhabitants (55 men and 50 women) of which 17 is Roman Catholics, 88 Greek Orthodox; 12 Poles ans 93 Ruthenians. Three houses, 16 inhabitants (6 me and 10 women) live at the bailiwick.

Slownik Geograficzny Krolestwa Polskiego I Innych Krajow Slowianskich (Geographic Dictionary of the Polish Kingdom and other Slavic Countries) Wydany pod redakcja Bronislawa Chlebowskiego, Warszawa, 1892. Tom VIII.- Zeszyt 94 str. 50-51
[translation to English SP]
---
Jan Popiel
&
Slawomir Popiel

This site was created on June 15, 1998 and updated on May 11, 2007
Copyright © 1998. Jan Popiel & Slawomir Popiel.