KATYN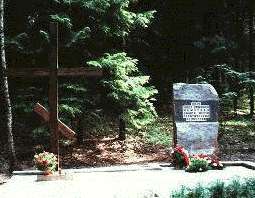 atyn Forest is a wooded area near Gniezdovo village, a short distance from Smolensk in Russia where, in early 1940, the NKVD, on Stalin's orders shot and buried over 4000 Polish army officers that had been taken prisoner when the Soviet Union invaded Poland in September 1939 in support of the Germans, and were kept in the Kozielsk camp. Katyn was not a single place of Polish martyrology. Other notorious places of Soviet crimes were Kharkov, where NKVD murdered circa 3800 people imprizoned in Starobyelsk, and Tver, a place of murder of more than 6000 prizoners from Ostashkov.
Among Soviet victims there were also Popiels.
Full lists of victims has been published by the Karta Center in Poland, based on:
NKVD lists of transported prisoners (in Russian);
Jedrzej Tucholski, Mord w Katyniu, Warszawa 1991; spis polski zamordowanych jenców z Kozielska;
Pro Memoria (rozszerzone biogramy rozstrzelanych w Katyniu), "Wojskowy Przeglad Historyczny", nry 2/1989-4/1994;
Amtliches Material zum Massenmord von Katyn, Berlin 1943;
Katyn Families Society, Search section, own materials;
Katyn Institute in Poland - archives of J.Z.Robel;
Karta Center, own materials - data gathered from survey among victims' familes;
Materials from Ms. Janina Ziemian (the Chairwoman of the Kantyn Family in Israel) archives;
Katynczycy Ziemi Kutnowskiej, Regional Museum in Kutno brochure, maj-czerwiec 1993;
Lista ofiar z Kozielska, "Gazeta Radomszczanska", nr 18, 6 maja 1994;
Metropolitan Chancery in Krakow materials. "Biuletyn Katynski" nr 39, Kraków 1994;
Katyn. "Sandomierskie Zeszyty Biograficzne", zeszyt 1, pazdziernik 1995.
---
Katyn, April-May 1940
Part of the list of murdered Kozielsk camp prisoners
...
Polcza Jan
born 1897
son of Jozef
lieutenenant - reserve
N 540/78; T 691; W1 368; T 195; A 03715
Popiel Alfred
born 1888
son of Kazimierz
lieutenant
N 579/12; T 710; W1 381; T 195; K 188; A 02502

Poplawski Antoni
born 1892
son of Antoni
major
N 415/78; T 626; W1 330; T 195 Antoni Seweryn; A 03405; X3
...
Kharkov, April-May 1940
Part of the list of murdered Starobielsk camp prisoners
...
Poniatowski Janusz
born 1902
son of Julian
sub-lieutenant - reserve
N 358/2559; T 959; W3 303; T 473 Janusz Jozef
Popiel Jerzy
born 1897
son of Kazimierz
lieutenant - reserve
N 364/2760; R1; T 963; W3 303; T 473 Jerzy Marian Jozef
Poplewski Mieczyslaw
born 1916
son of Konrada
sub-lieutenant - reserve
student
N 362/2668; T 961; W3 303; T 473, 571; Z
...
(sp)
Translation from Polish to English: sp
---
Jan Popiel
&
Slawomir Popiel

This site was created on June 15, 1998 and updated on May 11, 2007
Copyright © 1998. Jan Popiel & Slawomir Popiel.